Rivile EDI (EKO) (electronic data interchange)
ELECTRONIC EXCHANGE OF BUSINESS DATA

Rivile EDI (EKO) enables smooth, fast and reliable exchange of documents and data between businesses with up to 80% greater efficiency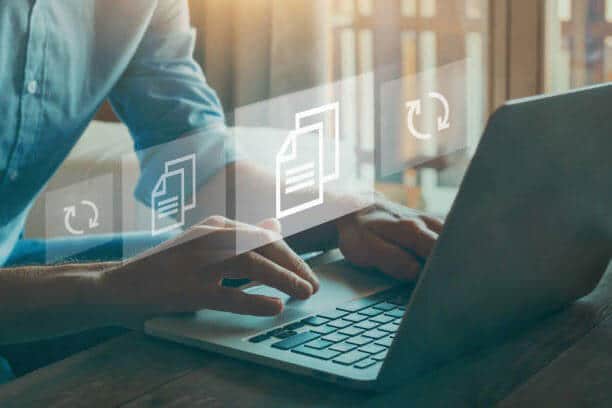 Simple and efficient—this is how Rivile EDI (ECO) system can be described in two words.
EDI or the solution for electronic data interchange allows the exchange of important documents (invoices, delivery notes, etc.) with a single keystroke. The system is relevant to businesses of all sizes and types, and a single connection to the EDI system ensures reliable data exchange with all business partners.
The electronic exchange of commercial information enables working faster and more accurately, at the same time ensuring significant savings. There is no need to spend hours or days entering documents by hand, because the data is exchanged directly. Based on the publicly available information, thanks to the faster processing of documents, the business cycle gets accelerated by as much as 61%, while data quality improves up to 100%. 
Benefits of Rivile EDI (EKO) system

Substantially higher efficiency
The data between business entities is exchanged with up to 80% greater efficiency.

Important documents can be exchanged with a single keystroke.

To businesses of all sizes
The system is relevant to large and small companies of various types.

Automated process improves data quality by up to 100%.

Lower administrative costs
There is no need to spend hours or days entering documents by hand; the resources are used efficiently.

Greater customer satisfaction
The system provides standard business language, facilitates communication, creates the image of an innovative company.

Data exchange speeds up all processes in the chain, accelerating the business cycle by up to 61%.

With versioning access contract, sending data directly from Rivile GAMA to Rivile GAMA is free of charge.

If 30 thousands of Rivile GAMA users (every 3rd company in Lithuania) on average deal with 50 documents per month, then to process them, they spend more than EUR 4 million per year.
If Rivile GAMA users while exchanging documents for errors, approval/rejection, etc. have a lower turnover of 10 days, then to finance it, they spend more than EUR 10 million per year.
Rivile EDI (EKO) (electronic data interchange)
Electronic exchange of business data
What customers say about us
More than 30,000 companies records are handled with Rivile GAMA

We've been with Rivile since 2001. Over the years, we have improved and changed together, along with the changing accounting principles, taxes and the introduction of the euro. All those years, we accountants were happy that we had great software and Virgilija, who is a top-notch service professional. It's flexible software that has a lot of possibilities and is constantly evolving. We have recommended it to many institutions that were interested in accounting software. And we still recommend it now, because the software is user-friendly, simple, clear and accurate.